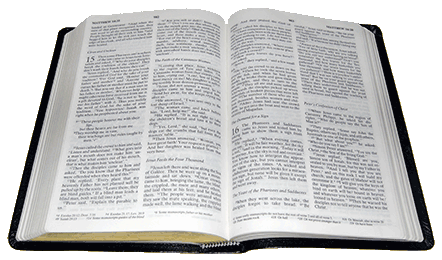 "For if he that cometh preacheth another Jesus, whom we have not preached, or if ye receive another spirit, which ye have not received, or another gospel, which ye have not accepted, ye might well bear with him (you might listen to him)."
(II Corinthians 11:4)
"For there shall arise false Christs, and false prophets, and shall shew great signs and wonders; insomuch that, if it were possible, they shall deceive the very elect."
Matthew 24:24
Satan's strategy is often to (1) attack the Person and Work of CHRIST, (2) attack the Person and Work of the HOLY SPIRIT, then (3) bring in a new basis for your Salvation ("another gospel").
7 Biblical Facts About Jesus
1. Jesus is God.
"In the beginning was the Word, and the Word was with God, and the Word was God."
"And the Word was made flesh, and dwelt among us, (and we beheld his glory, the glory as of the only begotten of the Father,) full of grace and truth."
"I and my Father are one."
John 1:1; 1:14; 10:30
2. Jesus is eternal
"Jesus Christ the same yesterday, and to day, and for ever."
Hebrews 13:8
"Jesus said unto them, Verily, verily, I say unto you, Before Abraham was, I am."
John 8:58
3. Jesus saves us and intercedes for us in heaven.
"Wherefore he is able also to save them to the uttermost that come unto God by him, seeing he ever liveth to make intercession for them."
4. Jesus is the only way to God.
"Jesus saith unto him, I am the way, the truth, and the life: no man cometh unto the Father, but by me."
John 14:6
10 "Be it known unto you all, and to all the people of Israel, that by the name of Jesus Christ of Nazareth, whom ye crucified, whom God raised from the dead, even by him doth this man stand here before you whole."
12 "Neither is there salvation in any other: for there is none other name under heaven given among men, whereby we must be saved."
Acts 4:10, 12.
5. Jesus died for our sins.
"Who his own self bare our sins in his own body on the tree, that we, being dead to sins, should live unto righteousness: by whose stripes ye were healed."
1 Peter 2:24
6. Jesus rose from the dead.
"That if thou shalt confess with thy mouth the Lord Jesus, and shalt believe in thine heart that God hath raised him from the dead, thou shalt be saved."
Romans 10:9
"And if Christ be not raised, your faith is vain; ye are yet in your sins."
1 Corinthians 15:17
"Knowing that he which raised up the Lord Jesus shall raise up us also by Jesus, and shall present us with you."
2 Corinthians 4:14
7. Jesus is coming again.
16 "For the Lord himself shall descend from heaven with a shout, with the voice of the archangel, and with the trump of God: and the dead in Christ shall rise first:
17 Then we which are alive and remain shall be caught up together with them in the clouds, to meet the Lord in the air: and so shall we ever be with the Lord."
1 Thessalonians 4:16-17.
7 Examples of Satan's lies about Jesus:
Jesus is a separate God from God the Father. He was created as a spirit-child by the Father and Mother in Heaven. Lucifer is one of his brothers. His death does not provide full atonement for all sin.
As part of Christ's atoning work, He has been conducting an "investigative judgment" in the heavenly sanctuary since 1844. Salvation just started at the cross.

Jesus as an angel is a created being. His death provides an opportunity to attain eternal life through obeying God's laws. They offer no assurance of eternal life. They say Christ's blood is only for the 144,000.

Jesus, as material manhood, was not Christ. They deny the virgin birth, and miracles. They have a False view of Atonement. "Man, as God's idea, is already saved with everlasting salvation." Jesus was not God, and God can never become man or flesh. He did not suffer and could not suffer for sins. He did not die on the cross. He will not literally come back.

Jesus was a perfect man, not God. He was not born of a virgin. His mission was to unite the Jews behind him, find the perfect bride, and begin a perfect family. The mission failed. The Second Coming of Christ is fulfilled in Sun Myung Moon, who is superior to Jesus and will finish Jesus' mission.

Jesus was not God or the Son of God. His virgin birth is likened to Adam's creation. He was sinless, a worker of miracles, and one of the most respected prophets sent by Allah. He was not crucified or resurrected. He, not Muhammad, will return to play a special role before the future judgment day, perhaps turning Christians to Islam.

Jesus is not the one true God. He is not the savior, but a spiritual model and guru, and is now an "ascended master." He was a New Ager who tapped into divine power in the same way that anyone can. He did not rise physically from the dead, but "rose" into a higher spiritual realm.

There have been at least 37 people since the 1700s that have claimed to be a reincarnation of Jesus, or the Second Coming of Jesus. Men such as: Sun Myung Moon, Jim Jones, Charles Manson, David Koresh, Sergey Torop, and David Shayler.

As Matthew 24:24 says:
"For there shall arise false Christs, and false prophets, and shall shew great signs and wonders; insomuch that, if it were possible, they shall deceive the very elect."
/